Google App Engine Support Company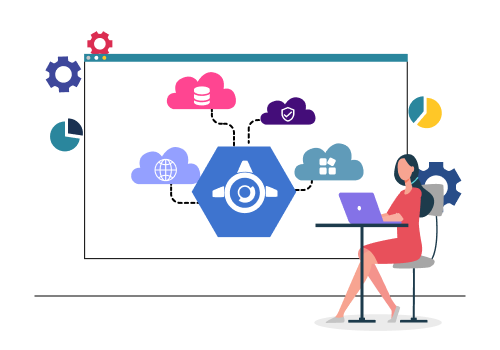 Google App Engine is a modular cloud-based service that allows the enterprises to create simple websites to complex applications. Etelligens have years of experience in Google App Engine support services that enables us to deliver, robust, reliable and cost-effective cloud-based solutions. With the right combination, we also integrate new-generation technologies in cloud stations to scale-up our client's business among the competitive market.
We have some of the best web administrators and programmers who design and develop some of the best cloud-based web sites and applications using advanced languages like PHP, Java, and Python, etc.
We produce highly scalable and advanced web services on a fully managed server-less platform.
Our Cloud-Based Services Include
Hire Google Cloud Consultants And Developers From Etelligens
Google App Engine Platform as a Service
Our Google Cloud Platform developers can provide enterprise-level entities with a full array of Google app engine platforms as a service including full-scale implementations, custom solution development, multi-system and application integrations, and ongoing support and maintenance, to meet your IT and business needs.
Google App Engine Development
We have a team of talented developers who are well-familiar with the Google App Engine. Thus, they can also help the enterprises and start-ups like in launching, developing and maintaining stunning high-performance mobile apps that are powered by Google cloud.
Google App Engine Consulting
We offer the latest Google App Engine Consulting services, according to the demand of the industry. Experts working with our Organizations are very potential to harness the right solution that helps our clients, in making their next big idea into a success.
Google App Engine Monitoring
We have intensive experience in Monitoring different Google App Engine software for a complete solution. We have our API experts and have also created custom monitors for tricky integration.
How Hiring Google Cloud Computing Services Benefits Your Businesses?
One-Stop Solution For Google App Engine Support Services
Easy-to-Start
Google cloud development platform incorporates the latest-technology tools that helps you to launch, test, update and develop the applications. In other words, it allows you to develop web applications and websites faster in a single step.
Secure and Reliable
Web applications and websites built on this Google cloud development platform, are highly secure and reliable. It protects your business from unnecessary frauds and helps in increasing the traffic etc.
Cost-Effective
You don't have to hire special engineers to manage your servers or to do that yourself. Therefore, it is very cost-effective. This will help you to invest that money into other parts of your business.
Scalability
The good thing about Google cloud development platform is that it is a manageable platform, that ensures engineers to effortlessly scale up their applications with no-operations skill. Moreover, it also sets up the best practices as far as security, logging and releasing management are concerned.
Supports All Major Languages
Google cloud app engine services support all major languages such as Java, Ruby, PHP, Python, .NET, Node, and lot more. You can choose any language option and do coding as per your needs.
No Maintenance Required
It is an open-source platform that can be customized as per your needs and not requires any maintenance cost. However, it will also take care of errors and bugs.