Joomla Development Company
Get Joomla development services to suffice your business requirements and take it to the next level.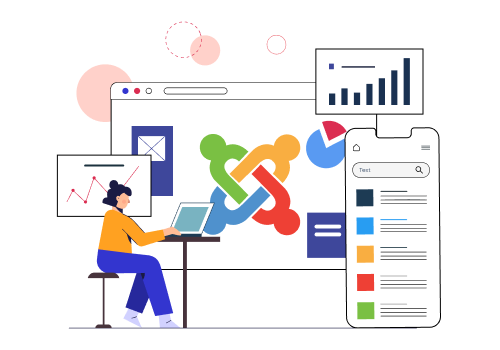 Joomla is a robust platform that facilitates you to create visually appealing websites to drive your business growth. Joomla development services allow you to extend of your website's functionality to make it more interactive with your customers.
Our Joomla developers help execute websites via Joomla CMS for companies worldwide. Etelligens, as a Joomla development company, fathom the strength and popularity of Joomla and is devoted to providing out-of-the-box solutions to any projects. We offer alignment of web development with your business goals for a long term success.
Hire Joomla Developers
We offer many services as one of the leading Joomla web development company.
Our Joomla developers are highly experienced in creating scalable, secure, and reliable next-generation websites within a designated time-frame. We have already created a wide range of websites integrated with Joomla dealing in different industrial verticals like education, banking, healthcare, real estate, and many more.
As a Joomla development company, we believe in working with a proven methodology that fuses well with the skills and experience of our Joomla developers to deliver high-quality client-centric results.
Joomla Development Services
Be future-ready for the best business growth.
Etelligens understands business practices and potential growth needs by embracing and offering the latest technologies available. Hence, we develop, integrate, and customize every available Joomla extension to your website development date. By working on Joomla development with us, you'll get:
High level of customization

Multiple OS support

Security enhancement

Functionality extension

Customized templates
Customized components, modules, plugins

Custom code

ERP integration

CRM integration

Social integration
Services offered by us with the help of our esteemed Joomla Developers
Joomla Website Development
Joomla Application Development
Joomla Maintenance Services
Joomla Theme Customization
Joomla Portal Development
Joomla Ecommerce Development
Why Choose Joomla Development?
You can escalate your business growth by working with one of the popular CMS platforms like Joomla.
High Level of Customization
Easy Content Management
Blogging Friendly Website
Quick Turnaround Time
Quick Implementation
Built-in SEO Functionality
E-commerce Friendly
Rapid Development
Performance-Oriented Solutions
FAQs