Top-Notch
Flutter App Development Company
Streamline your business next-gen mobile app using flutter app development.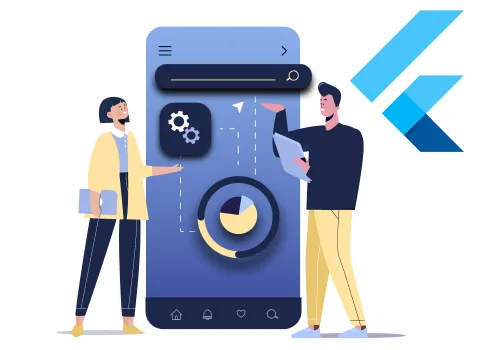 Build fantastic Flutter apps with us to scale your business faster and deliver a delightful native experience to users across the globe.
Out of many Flutter app development companies in the market, Etelligens stands out for its wide range of cross-platform app development services.
Our Flutter developers assure on-time delivery with the best dedication and creativity applied for your Flutter app development.
Since Flutter is a recent software framework kit developed by Google, we have the best and expert Flutter app builders. They have experience working in various industries to help retain the targeted audience's attention and increase the number of customers.
We aim to help you create a long-term impression on your clients and customers by helping you to serve modern technological strategies to address their bidding challenges better.
Why Choose Flutter App Development Services?
Enable yourself to create an expressive and flexible framework to develop innovative apps with Flutter app development.
Quick & Easy Code
Flutter app development platform is attractive for developers as they get to work with a faster coding process, which in turn enables you to have a faster-debugging process.
Improves UI
Moreover, Flutter developers can easily experiment with the apps' features to improve functionality and enrich the UI.
Easy to Use
Flutter's architecture is such that it analyzes the development process for the developers. It can easily integrate with other programming languages to help ease the app development process.
Single Coding Based
Flutter app developers' best thing is that they no longer have to duplicate the codes for different platforms. A single code framework operates on both iOS and Android.
Smooth Experience
Flutter is that UI software development kit that allows your developers to build a better UI, which delivers a better user experience.
Fast Testing
Since it completely eliminates for you to develop different apps for multiple platforms, testing becomes much quicker.
Widgets Creation
Flutter app development has a fantastic widget library in its SDK, making it easy for developers to personalize a widget quickly.
Why Choose Etelligens as Your Flutter App Development Company?
Skilled team, years of experience, and well-defined process-makers are just some of the perks for hiring Etelligens for Flutter app development services.
To use the Flutter framework sensibly, we have the best Flutter developers. They can design and develop next-gen apps for iOS and Android way before your project launches successfully.
With cross-platform app developers as our most prized asset, we deliver better digital experiences through these Flutter services:
Personalization widgets for Flutter apps
Plugin Development for Native Communication
Hot Reload
Single Codebase
End-to-End Project Management
Eye-Catching UI
Quick Support & Maintenance
Flutter Migration
Quality Assurance Before & After Deployment
High-level Native Features
FAQs